We're reader-supported. When you buy through links on our site, we may earn an affiliate commission. #CommissionsEarned Disclaimer
It's ski time! Time to change old stuff and proceed with new functional adventurous items. Hitting the slopes with kids feels like it takes an arduous effort. So let's talk about what's important now. Can you ski without ski gear? If your child goes skiing, do you take them in ski jackets? You are prepared to face the cold weather at the mountain by wearing your ski equipment, but is your child also prepared for it by wearing appropriate clothing? They are wearing the same old jacket they usually wear. They also need ski clothes.
Picking the best ski jackets for kids is such a difficult task. Just because we have to focus on quality, comfort, warmth, and also looks. Any parent who has skied with kids knows that warm, waterproof children's ski jackets are a must in their suitcase in order to make sure that they have a fun time at the resort! To help you find the best ski jacket for your kids, we've compiled a list of our top picks for this season.
Best ski jackets for kids: Quick Picks
1. Best Overall
Bluemagic One-Piece Ski Suits Jackets
Fully sealed seams
Waterproof and Breathable
Back zipper opening
Lots of pockets
Adjustable belt and strap
Faux fur-lined hood
2. Best Runner Up
Wantdo Hooded Kids Ski Jackets
Super insulation with stand collar, hood, cuffs, and hand pockets
Warm, windproof, and breathable
10000mm waterproof outer shell
Comfortable and durable
So many functional pockets
3. Best For Comfort
LEGO Ski Jacket For Kids With Detachable Hood
Material 100% knitted polyester
Zipper closure
100% windproof and breathable
Water-resistant and breathable
A detachable hood
It has 3M Scotchlite reflectors for visibility
4. Best For Durability
WOWULOVELY Skiing Jacket with Pants For Girls
Durable polyester stretchy fabric
Water-resistant, windproof
Detachable hat
Thickened lining fabric
Exquisite zipper
Adjustable cuff and strap
5. Best For Material
Hotian Windproof Ski Jacket Pants Suits
High-performance waterproof fabric
Coated fabric
Effectively prevent static electricity
Windproof and waterproof
Waterproof, Windproof, and Breathable
Ski Jacket You May Checkout –
What are the best ski jackets for kids?
1. Helly-Hansen Kids Windproof Breathable Ski Jacket:
Helly-Hansen is a great brand for kids' outdoor gear. Their products are made with high-quality user-friendly material. Because of Helly tech performance, the jacket is waterproof, windproof, and also breathable which can protect your child from the hardest winter conditions outside. This jacket's inner layer and outer shell both are super soft, comfortable, and great warm. You don't need to fear that your kid will be getting cold. They will stay dry and cozy by wearing this.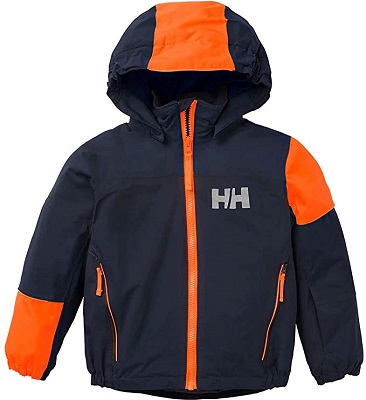 Zipper closure
Waterproof, windproof, and breathable
Soft Brushed Tricot lining inside collar
Chin guard for extra warmth
Two hand pockets with YKK zip closure
Articulated sleeves
Reflective piping and HH logos
This jacket is available in sizes 1 to 12 and available 10 vibrant color palettes and fun prints. This regular-fit jacket is neither slim nor oversized. Its excellent features and well quality zippers help to enjoy a ski day with proper relief. As Helly Hansen gear is worn and trusted by professionals on oceans, mountains, and worksites that's why we guess that you don't have any doubt about their quality.
2. Columbia Ski District Jacket For Kids:
Featuring this Omni-TECH waterproof and breathable outer shell, Columbia Boy's Winter District Ski and Snowboard Jacket are perfect for skiing and snowboarding. Wet and snowy outdoor conditions are no match for its warmth retention. Your kid will be protected from almost everything a mountain can throw at them in this winter jacket. The jacket includes a fully adjustable hood, snap-back powder skirt, two zippered hand pockets, a media pocket, ski pass pocket, goggle pocket, warm-lined pockets, adjustable cuffs with warm thumb holes, and reflective detail.
100% polyester
Omni-Tech waterproof fabric
Waterproof thermal reflective
Advance technology
Adjustable hood, and snap back
So many functional pockets
Adjustable cuffs with cozy thumb hole
This snow jacket is available in numerous colors and sizes. It is a regular fit, to ensure the size you choose is right, utilize the manufacturer's sizing chart and the following measurement instructions. These winter ski jackets kids will keep your kid extra warm and toasty. Enjoy it with its crazy features and quality which will really be loved by your little champ.
3. Burton Unisex-Child Parka Ski Jacket:
Warm, dry, and fun is the main goal of skiing for kids. So if you want to ensure your kid's safety, outlook, and also health then go with a well-known brand's jacket. Snow, rain, sleet, and hail won't keep you down if you have the Burton Jacket, with its fully waterproof and breathable design. If you want to try something well then you have to forget about the price. We can say that it will be worth the money.
DRYRIDE two-layer fabric
Waterproof and breathable
Thermacore insulation
Collar for additional warmth
Removable hood with elastic hood gaiter
Chafe-free chin guard
Adjustable cuffs
Sleeve pass pocket and Hand Warmer pocket
As Burton is a well-known brand so don't need to represent its quality. This jacket comes in 5 different colors and patterns also 2T to 5 sizes are available in this. This is a unisex jacket so boys and girls both can wear them and enjoy their outstanding features. If the price doesn't fact to you, then this can be a great investment in your kid's ski gear. Which will be so durable and use them in several ski seasons.
Check out : Best Ski Jacket for Kids
4. LEGO Ski Jacket For Kids With Detachable Hood:
LEGO Wear clothing is interchangeable with high quality. Children play and wear their clothes all day long, and that's the way it should be. So satisfactory quality is in focus. LEGO Wear clothes will last more and the comfort is elevated. It's softshell bonded with 100% polyester microfleece which made it totally windproof and breathable. Because of its soft and comfortable material, they will love them to wear.
Material 100% knitted polyester
Zipper closure
100% windproof and breathable
Water-resistant and breathable
A detachable hood
It has 3M Scotchlite reflectors for visibility
14 different colors and patterns are available in this jacket, besides 9months to 4T size is available. These warmest ski jackets for kids have some exclusive features like 3M Scotchlite reflectors for visibility, some iconic badges, a detachable hood, and also a soft chin guard. These functionalities help you to stand out from many jackets easily.
5. Obermeyer Boys' Fleet Jacket For Little Big Kid:
Obermeyer fleet kids winter ski jackets is an actual jacket with a reworked alpine style. Whether you're cruising with friends or riding the trails, this jacket will keep you warm and comfortable all day. It has extensive features like hydro block Sport 10, 000mm waterproof-breathable coating, critical seam sealing technology, and premium 160gm insulation. Moreover, it has additional features such as a cord routing guide, an attached hood, a powder skirt integrated into the sleeves, and full-motion articulated sleeves for greater mobility.
100% Polyester
Zipper closure
Full-motion articulation attached hood
Water-resistant and breathable
Adjustable cuffs, hook and loop adjustment, also gusseted cuffs
This jacket can be used for toddlers to big boy kids. With the comprehensive color collection and style, this jacket can be an ideal choice for your boy kid. 6-7years to X-Large size is available in it. Relying on its inner material and outer shell, we can assure you that this jacket will provide extra warmth and comfort.
Check out : Best Women's Ski Jacket
6. Helly-Hansen Windproof Ski Jacket For Boys' Kids:
As we know Helly-Hansen is a well-known kid outdoor brand. This jacket is made with 100% polyamide. With fully taped seams and a hood that fits a bulky kid's helmet, this insulated jacket keeps your toddler warm without overheating thanks to the thin and lightweight insulation. It will protect your kid during challenging, changing, and unpredictable weather conditions.
Insulated, highly waterproof, and breathable
Fully seam-sealed.
DWR Treatment.
Hi-vis fabric on hood and sleeves
Soft-touch tricot lining inside collar and chin shield
Elasticated cuffs and partly elasticated bottom hem
It has so many amazing features which can't be defined in a few sentences, you have to visit what vast functionalities they have. It comes in 15 different vibrant color palettes and fun prints and 1-12 size is available in it. This is an insulated and waterproof kids' ski jacket that's excellent for every winter adventure. Basically, Helly-Hansen is designed to keep kids dry while playing on the snow outside.
Where to buy it? Click here to buy now.
7. Obermeyer Girls' Meghan Ski Jackets Kids:
Obermeyer created a fancy fitted puffy with a high loft fiber down to keep your kid warm and comfortable without the bulk. A luxury removable faux fur collar trim is its extraordinary character. Dexterous enough to head out on the slopes and classy enough to head into town with your best friend. Weatherproof construction includes critical seam sealing. It is specially created for big girl kids.
Removable faux fur YKK zippered
Full-motion articulation attached hood
Snap-away water-resistant powder skirt
Gripper elastic hem
Fuzzy-fleece lined collar and fleece chin
Warmer interior and wind guard interior
Skiing Gadget Pocket
It has 4 different girly cutest colors with small to X-Large size. A geometric pattern created with supple geometric panels and METALUX zippers is complemented by the beautiful faux suede trim, as well as a fuzzy-fleece lined collar that accentuates its simplicity. This is perfect for skiing.
Check out : Best Ski Jacket for Men
8. Wantdo Hooded Kids Ski Jackets:
We believe every kid deserves a winter jacket that is made from durable materials and keeps its shape for a long time. Abrasion and tear-resistant shell fabric and protective coating make this ski jacket for boys sturdy and durable. With a waterproof index of 10000 mm, its hardshell will withstand heavy rain and water easily. Keeping dry and warm throughout the day even under misty or damp conditions is also made easier due to the ability to disperse moisture and sweat faster. In addition to a warm hood, it also provides protection against the chilly wind.
Super insulation with stand collar, hood, cuffs, and hand pockets
Warm, windproof, and breathable
The outer shell is 10000mm waterproof
Comfortable and durable
So many functional pockets with durable zipper
8 different vibrant colors are available in this jacket and size 4Y – 16Y are available in this. Unlike other ski coats, this waterproof, warm, thermal jacket is easy to wear and remove. This coat may be worn on skiing adventures, camping, or other fun outdoor sports. Relish your excitement of sliding down the slope with these kids' waterproof ski jackets.
9. WOWULOVELY Skiing Jacket with Pants For Girls:
So far we have talked about various ski jackets of different brands. Now we have picked some snowsuits, and ski pants are also provided with ski jackets. This Wowulovely is one of our top picks, this is made with durable polyester fabric which makes it a more comfortable outdoor outfit. Furthermore, it has some features like hoodie design, adjustable elastic cuffs, and professional access zipper, plus top thermal liner fabric all these are made to protect your kid from extreme cold.
Durable polyester stretchy fabric
Water-resistant, windproof
Detachable hat
Thickened lining fabric
Exquisite zipper
Adjustable cuff and strap
High-quality button
Adjustable trouser leg
Mostly by focusing on girl kids, it is created. So its color variation is amazing which you will really love. Because of its cutest vibrant color, you will easily find your kids in the resort. It has 17 different color patterns with sizes 4-16. Because of its close-fit, we suggest one or two sizes up for a perfect and comfortable fit.
10. Hotian Windproof Ski Jacket Pants Suits:
This is another ski suit of the well-known brand Haitian. High-quality cotton made it soft and comfortable, the Coated fabric added anti-static function, and high-performance waterproof fabric technology made it waterproof, windproof, and wear-resistant. It is created to prevent your child from all the weather conditions. Your kid feels warm and cozy even in the -30 degree cold conditions.
High-performance waterproof fabric technology
Coated fabric adds anti-static function
Effectively prevent static electricity
High windproof and waterproof technology
Waterproof, Windproof, Anti-static, Breathable, and Not faded
It has 25 different colorful styles and rich patterns and 4-16 sizes available to choose from. This luminous color ski jacket will make your children more stunning and very eye-catching. As kids are growing up so quickly we recommend you to go one size up for long use and perfect fit. All over, this will be a worthwhile purchase since you get ski pants at the same price as the jacket
11. Bluemagic One-Piece Ski Suits Jackets:
This is a one-piece ski suit of the brand Blue Magic. With the Blue Magic Winter Overall in their wardrobe, your children will be ready to go further this winter. Once on, the wind-resistant fabric treatment deflects light precipitation, and the long zipper makes it easy to get them dressed. The synthetic lining minimizes irritation by sitting smoothly against their skin. It is specially made to fight the hardest weather conditions.
Fully sealed seams
Made to withstand the toughest conditions
Waterproof and Breathable
Back zipper opening for ease of dressing
Lots of pockets
Adjustable belt and adjustable strap
Faux fur-lined hood
This ski suit is soft, warm, waterproof, and also breathable. Its multifunctional pockets can provide more space to store your kid's small items. It comes in 21 different color patterns and styles and 3T to 12 years size is available in this. If you want something all in one on an affordable budget then go with this one. Because it is a perfect blend of quality, comfort, and also price.
Which Things To Consider Before Buying Ski Jackets For Kids?
Weather resistance and breathability:
The first and main consideration is to consider how resistant your jacket is. There are several brands in the current market, some of them provide total waterproofing facilities, some of them are water-resistance and weather resistant. A waterproofing jacket ensures that your kids will stay warm and dry even when they will play with snow. Besides, the wind-resistance jacket has some extra facilities like the adjustable wrist, strap, and detachable hood system to ensure extra warmth on cold days.
Material Quality:
When you choose ski jackets for kids, the quality of the jacket should be one of their top considerations. You will need something durable for your child since they are generally active and wear things out constantly. Basically, a ski jacket's durability and performance depend on its material quality. Nylon, polyester, spandex are used in a well-branded jacket's outer shell.
Kids Friendly Features:
Additionally, you should consider how child-friendly the ski jacket is. The most common features in a ski jacket are pockets, zippers, and a hood. A number of the jackets feature gloves, clips or snow skirts, dedicated pass pockets, padding for safety, and grow-fit features that make them suitable for children.
Sizing or Fitting:
Basically, there are three types of fits: slim, regular, and loose. As you go to the mountain, you have to wear a closer fit. If your child is not skiing competitively, you can let him wear whatever he feels most comfortable in. In addition, looser-fitting garments can accommodate more layers. When it comes to ski jackets for kids, kids are constantly growing, so if you are in-between sizes, go for the bigger size.
Warmth and Comfort:
Just because of warmth and comfort we want to purchase ski jackets for our kids. So if our major needs will not come true then why should we buy any jacket? So to ensure the warmth and comfort of our kids focus on insulation because even in the freezing temperature it will help your kid to stay warm and
Already we have discussed so many things. Now at the end of this ski jacket for kids buying guide, we have some good-bye speeches. Making sure about kids' comfort, safety, and also style is compulsory for us. In conclusion, if you just want a jacket for your kid, check out well-known brands like – Helly Hansen, Burton, and Columbia. If you want a complete ski suit set, check out the last three. Just concert on material and sizing.